Locate vehicles using license plate recognition data!
We've added License Plate Recognition (LPR) data to IRBsearch allowing users to conveniently access Vehicle Sightings through any search or report containing a physical address, license plate number or VIN. Search this massive database of over 15 billion nationwide vehicle sightings, with up to 220 million sightings added each month.
Vehicle Sightings gives you instant access to current and historical locations of vehicles across the United States. This innovative tool allows you to plot multiple sightings for the same vehicle on a single map to uncover the most likely locations of search subjects.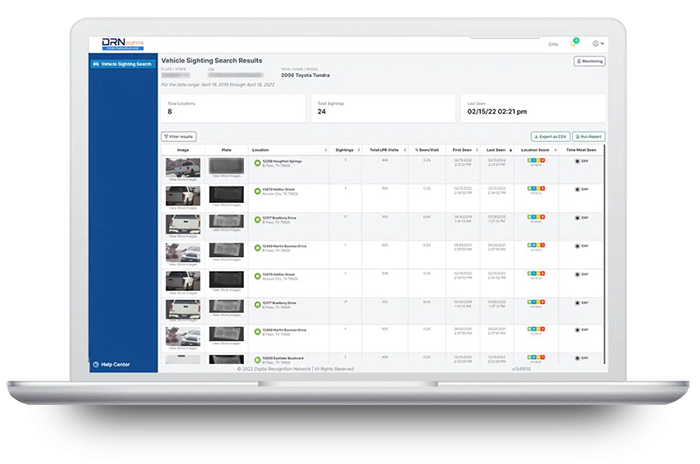 Features & Functionality
VEHICLE SIGHTING SEARCH
Search by VIN or license plate and filter by date and time to view a list or map of vehicle location records with images, time, date and GPS.
LOCATION SCORING
See locations where a vehicle is most commonly sighted along with location type, time-of-day and day-of-week.
VEHICLE MONITORING
Get notifications when you set up target vehicles for monitoring and new sightings become available.
PICTURE PROOF*
Conduct a pre-existing damage or unauthorized use investigation by reviewing vehicle images over time.
ADDRESS ANALYSIS*
Review vehicle records around a given address to find relationships between vehicles and locations.
LINK EXPLORER*
Search for and compare common vehicle sightings across multiple locations to identify potential collusion in your fraud investigations.
*Solutions still in development
Vehicle Sightings within IRBsearch is an essential tool for permitted investigative applications and ONLY for use by an insurer or insurance support organization such as Private Investigators, in connection with claims investigation activities, anti-fraud activities, rating or underwriting.